Herd Evolution®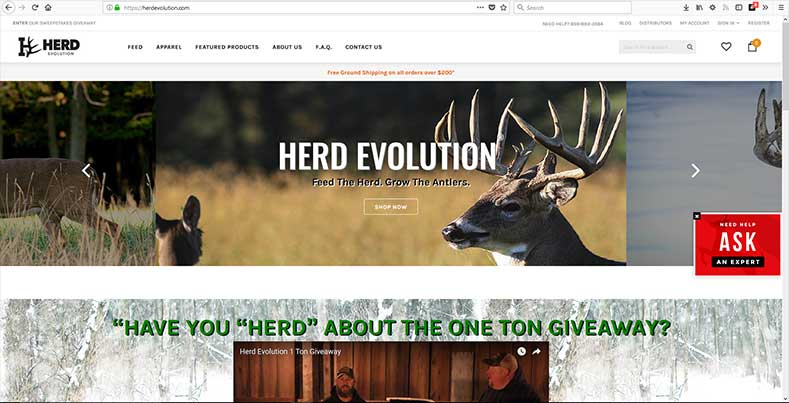 Herd Evolution® - [Feed The Herd. Grow The Antlers] is a premium, year-around feeding program formulated for optimal herd health and maximum antler potential. Herd Evolution┬« was created by Allen Goins, a fellow hunter, who grew up hunting in the mountains of Eastern Kentucky and is now based in Richmond. Allen wanted to do more than just attract deer; he wanted to attract and feed healthy deer, so he began to study their eating habits and unsatisfied with the quick fix, low quality feed available he decided to create his own.
A meeting with ConQuest Scents founder, Doug "The Dear Professor" Roberts, confirmed what Allen suspected: The entire herd benefits from eating the highest digestibility intake of high quality vitamins and nutrients. It was also evident that during different times of the year, the herd requires different protein and energy levels. Allen started working to create a year-around feeding program based on the one that Doug uses on his farm.
This feeding program is now available to hunters across the country and includes two formulas: one for the spring and summer and another for the fall and winter. Both mixes contain high quality ingredients like cracked corn (which is easier for deer to digest than whole corn) and a ratio of protein, vitamin and minerals to ensure a lifetime of optimal health and ideal weight.
One of Herd Evolution's main priorities was that the shopping cart be tightly integrated with the current version of QuickBooks. They also wanted a clean, corporate look for their web site and use Social Media. We chose 3dCart as the shopping cart because it already had a module that integrated with QuickBooks and had a multitude of 3rd party modules that further enhanced it's features. With 3dCart we can add all the shopping feeds and using their 3rd party modules we can integrate with WalMart, Amazon, Google Shopping, and Jet to name a few. One of the most exciting features of 3dCart is that we can expand Herd Evolution's product offerings with numerous drop-shipping companies that are already set up to use 3dCart. And all with the click of a button Herd Evolution can expand their product line with products that make sense to sell like spotting scopes. 3dCart's software and the 3rd party modules automate everything including inventory tracking and sales.
---
NegativeIIPositive®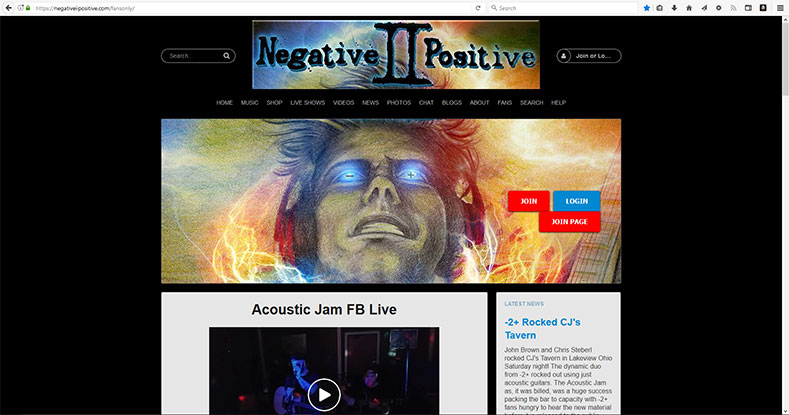 -2+ - or NegativeIIPositive is a hard hitting, pure rock & roll band from Columbus, Ohio. The members are from previous successful bands such as Kanky Lora on drums (Soulfly, Straight Line Stitch) on LoseYourSelf I and Adam Gilbert (Starset) on drums for LoseYourSelf II. Both albums will be releaased in the fall of 2017. Look for this band to be at the Grammy's in the future. There is not a filler track on either album they are releasing in 2017.
-2+ front man John Brown wanted a web site that would allow their fans to sign up and interact with the band and the web site. They also wanted to be able to sell their music (both CD's and virtual downloads) and their quite impressive selection of merchandise. We accomplished both and used Zen Cart for the shopping cart software which kept costs down. Check out their site and be looking to hear them on the radio in 2018!
---
Moberly's Krav Maga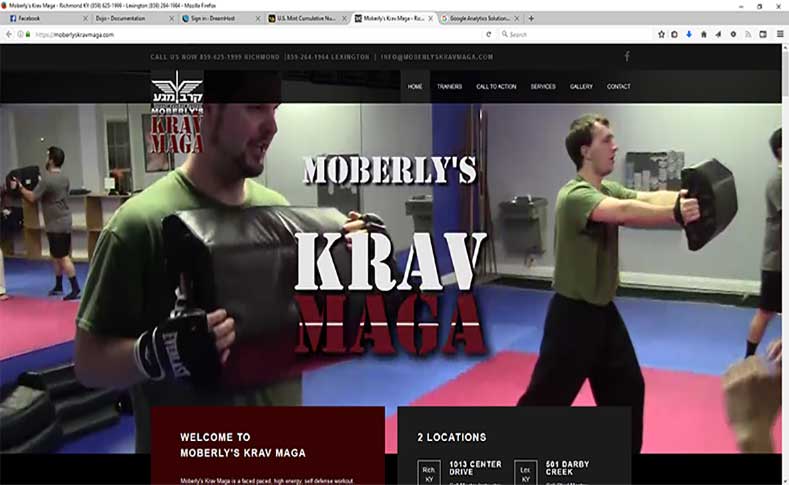 Moberly's Krav Maga is offered by both locations of Moberly's Martial Arts. Moberly's Krav Maga is a faced paced, high energy, self defense workout. Students learn how to strike, kick, block and defend many of the most common attacks and holds. No time is spent learning complex patterns and no traditional uniform is worn. No prior experience is necessary.
We had them shoot some raw footage of their Krav Maga students in training. We took that footage and used the best video as the main full screen splash page (intro page) for the web site. We also created 3 Demo videos including titles for various parts of the web site. To showcase the two Masters who teach Krav Maga at each location, we set up a Trainers section that features each master's accomplishments as well as statistics including a different Demo video for each. We also set up 3 different forms including one Modal Form so prospective students can reach the business owners easily.
---
Collectors Detectors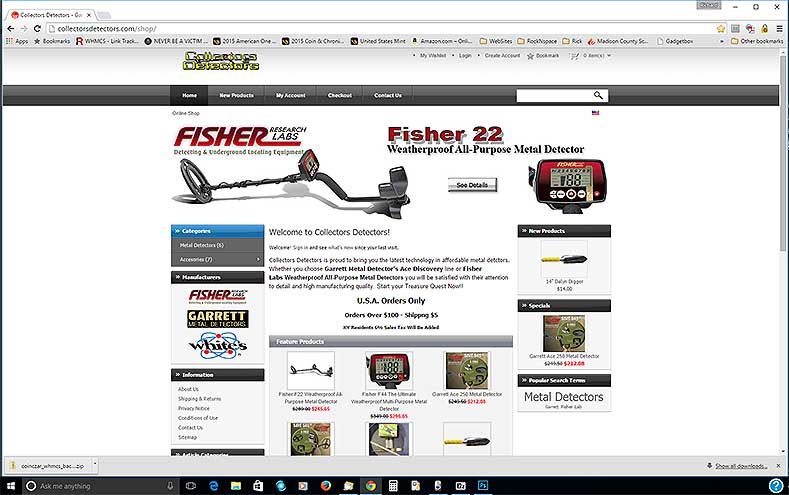 Collectors Detectors is a division of Richmond, KY based business Collector's Coins & Jewelry. Neatly tucked into the theme of coin collecting is Treasure Hunting so naturally Collector's Coins & Jewelry offers a complete line of Metal Detectors and accessories. The owner, Alan Barnett wanted a way to sell his Metal Detectors online.
We installed and set up Zen Cart to achieve all of their e-commerce goals. Zen Cart is the granddaddy of all open source ecommerce projects. It has been in constant developement for over 15 years and has recently offered a new release. It allows the administrator to upload pictures and offers many features such as a Newsletter, Guestbook, Upselling, Cross Selling, Articles, FAQ's, and Item Variants (such as colors, sizes etc.).
---
Green Prisons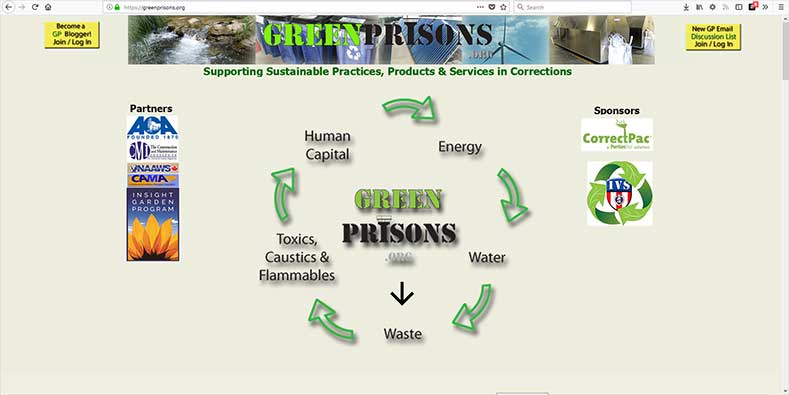 Green Prisons is the Source for News and Information on Environmentally Responsible Products and Services in the Corrections Industry. They have regular Webinars related to green solutions in the prison industry that can be viewed live at the scheduled times or view at the user convenience via archived flash files. They are about promoting and educating sustainable based solutions for the corrections industry. They are a one stop shop for sustainable resouces in the correction industry.
---
Urban Tactical Training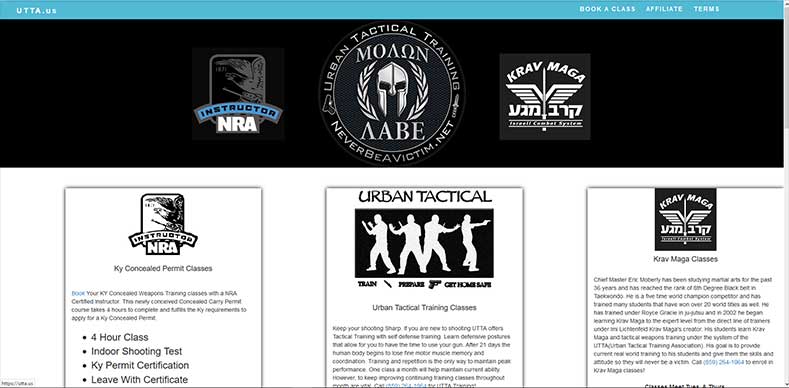 Urban Tactical Training is a brand new concept in the area of defense training. It marries two seperate disciplines into one. Allowing the student to learn time tested defense training (Tae Kwon Do, Krav Maga, Grappling etc.) and sharpen and enhance their shooting skills in a fun and safe environment. UTTA now also offers CCW (Concealed Weapons Permit Classes) classes one a month for their students. Check their Booking program to sign up.
The site we designed for Urban Tactical Training is both informative and functional. At their request we installed and very complex online calendar type booking program for their students to reserve and pay for their class. It also Invoices their students and keeps track of all sales. We also installed a Google Map program for showing all of Urban Tactical's locations (as they grow owner can add new locations through a web based form) and selecting the nearest schools (in order of distance) to the viewer based on the viewers location when viewing the site.
We are now in the process of writing a custom Affiliate program for their students to invite friends and be rewarded for it. Check back soon to see how we tie all of these custom programs together.
---
Pilots League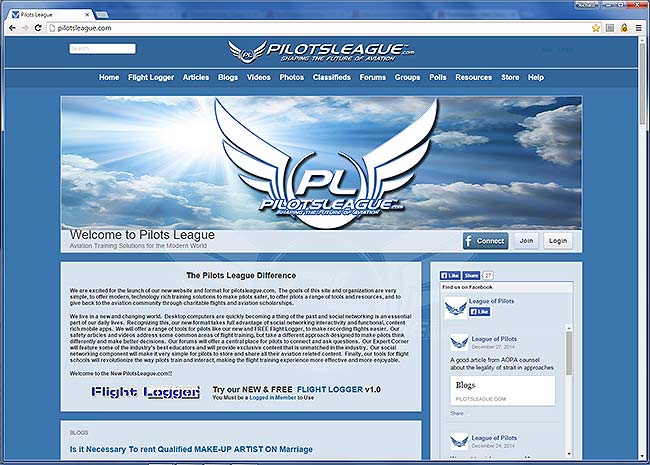 Pilots League wants to be the stop for pilots across the world to socialize and educate. We employed a new social network concept to allow Pilots League members to post to 12 different social networks (FaceBook, Twitter, LinkedIn,MySpace, Yahoo, Foursquare, Orkut, Friendster, Last.fm, Flickr, YouTube and Photobucket) each time they post anything to Pilots League (Blogs, Forums, Videos, Articles, Status Updates, Events and Classifieds). In addition members can log in with 37 social network identities, otherwise they would have to log into each social network they are signed up with, submit their post, and log out. Now they just have to log in to Pilots League, submit one post and all of their linked networks are updated.
In addition members can view their social network newsfeeds for FaceBook, Twitter, LinkedIn, Yahoo and MySpace in their Pilots League account. They can also see and send messages to their friends at those 5 social networks from their Pilots League account.
This is the next leap forward in driving social network to your site. Contact Us to discuss ways to set up your site to take advantage of social network traffic. Each post that is submitted to the 12 social networks can be reposted by members in those social networks. And all posts brings the traffic back to your site to view the video, blog, article etc. that was posted across linked networks. This can quickly become exponential s your membership grows driving huge amounts of traffic to your site.
---
Fit Kids Karate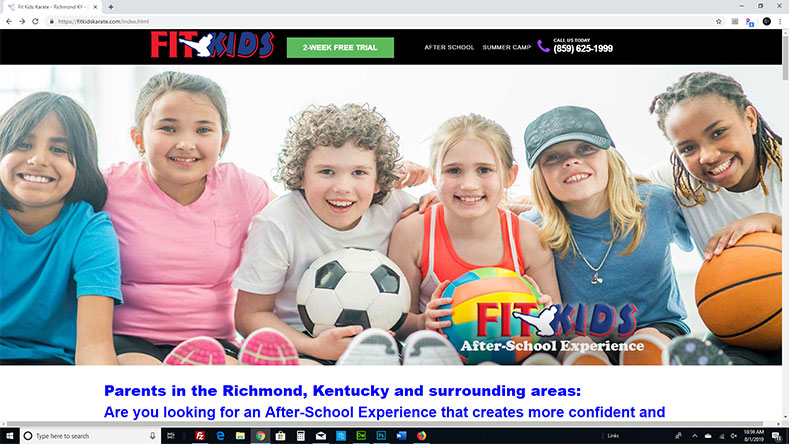 Fit Kids Karate has 2 locations for their customers. The Richmond, KY facility has an after school pickup program that includes 8 Richmond Schools. The Lexington, KY facility picks students up for their after school program from 2 Lexington area schools. Both offer an all day summer camp (7:30am - 6:00pm) that is a superioir alternative for day care during the summer months when public schools are on vation.
---
Coin Auction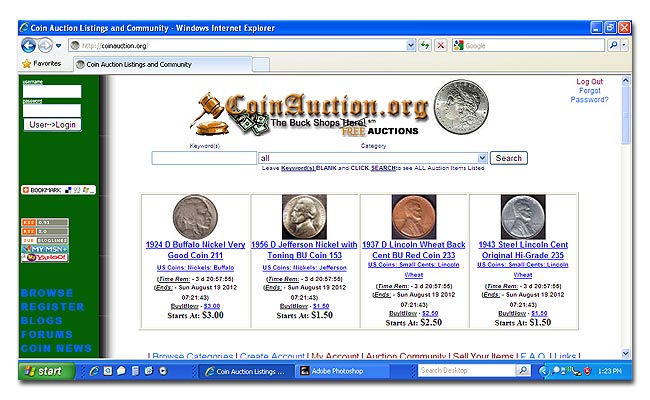 Coin Auction was built from the ground up in house using Perl language. Users can post auctions and bid on auctions or use the buy it now feature. Each member pays the seller directly using PayPal or other options that are up to the seller. Members can watch auctions and leave feedback for users. We implemented a Verified Buyer program where the member is charged a small fee via PayPal which verifies that the user is real. Members can also ask each other questions directly.
We recently added a auction community feature by installing Joomla. Now registered users can communicate with each other and write their own blogs, articles or add to forums. Using Joomla users can create their own groups such as coin clubs. Users can also log in to this part of the site with various social network identities.
---
Moberly's Martial Arts & Karate for Kids - Richmond, KY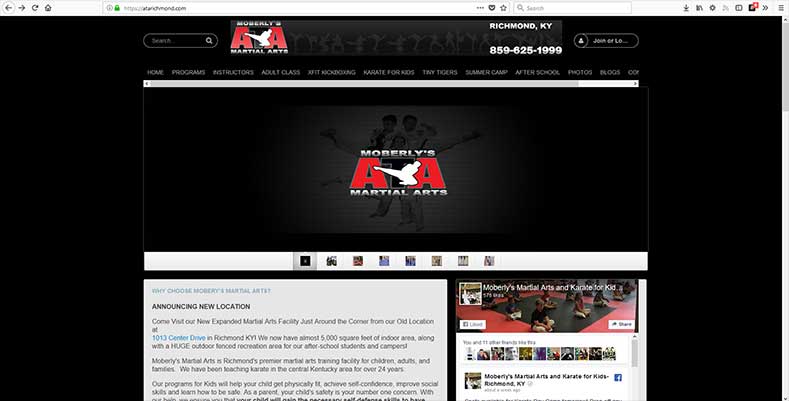 Moberly's Martial Arts & Karate for Kids - Richmond, KY is the premier Richmond Ky business for ATA (American Taekwondo Association) Taekwondo and XFit Kickboxing. They have been in business for over 19 years in the Central kentucky area. Providing a successful Summer Camp program and now offering a Fit Kids After School program with school pickup for Richmond KY students Moberly's Martial Arts is a martial arts trailblazer. Call (859) 625-1999 or visit the web site for more details.
Recently they wanted a total web site redesign with an emphasis on interactivity and SEO Strategy and Social Media Marketing. RockNspace staff installed licensed customized CMS software that accomplished these goals. Now students can sign up and upload photos and videos and share them on all the top Social Media sites. Students can also interact with each other and send messages to each other as well as write Blogs and other features. Now Moberly's Martial Arts SEO rankings are now near the top of the rankings in all major keywords relevant to their business. They have noticed a huge increase in enrollment and in web site interest and phone calls from the new redesigned web site. They say the phone never stops ringing now.
---
ATA Moberly Martial Arts - Lexington KY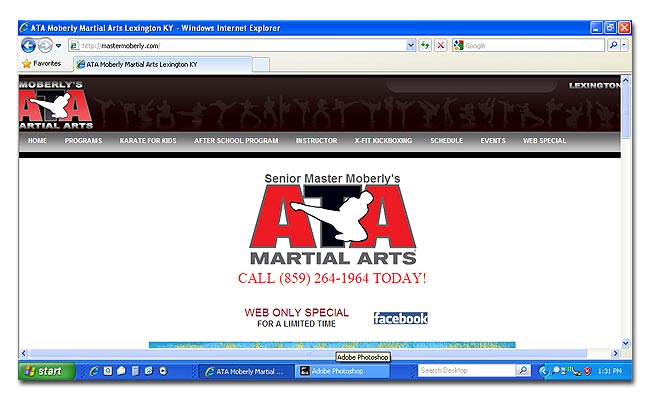 ATA Moberly Martial Arts - Lexington KY is a web site devoted to promoting ATA Taekwondo and XFit Kickboxing. Users can get detailed information about the programs offered and sign up for a Web Only Special.
They just finished a Summer Camp program and are now offering a Fit Kid After School program with limited school pickup for Lexington KY. Call (859) 264-1964 or visit the web site for more details.
---
Calling On Karma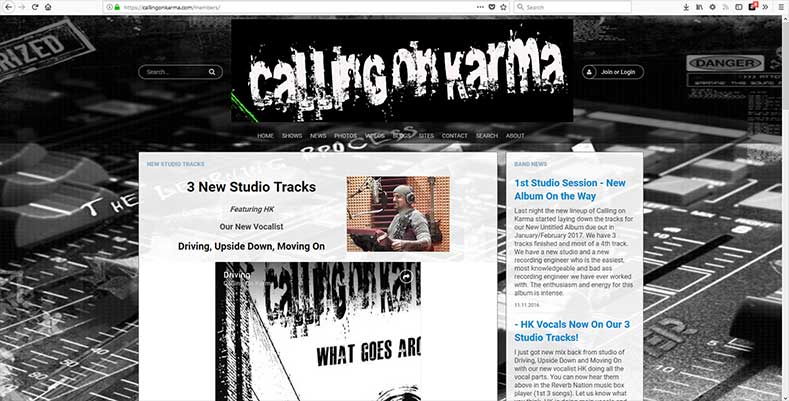 Calling On Karma is a Professional Band that produces their own original, alternative genre music. They wanted a web site that they could maintain plus share their music and videos with their fans. A secondary goal would be to allow their fans to sign up and interact with the Band Members and be able to purchase music directly through their web site.
We decided to install Dolphin 7.1 software to accomplish all of their goals. The Band Members have full control of the site. Who gets approved and what their fans can post. The Band Members can post videos, music and blogs which are featured to appear on the home page. The RSS feeds from this site are used on their other Social Network accounts. Plus we installed their Twitter activity feeds on their home page as well as FaceBook.
---
Rose's Pay Lake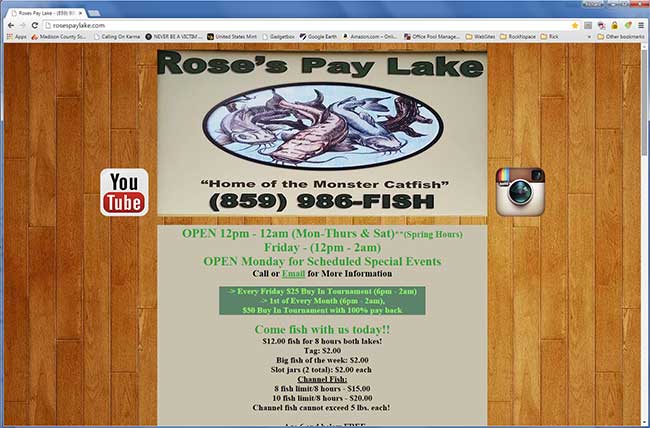 Rose's Pay Lake is the "Home of the Monster Catfish". Located in Berea, KY Rose's Pay Lake is an establishment that puts God 1st and Fishing 2nd. It features a trophy lake that stocks Monster Catfish from 20 - 80lbs. Come have the time of your life catching Monster Catfish. With a on-site complete Bait and Tackle shop fully stocked with rods, reels, bait and even Internet Wi-Fi!

Rose's pay Lake also features Tournament Fishing each Friday with tagged fish that when caught pays out money depending on the tag. And of course the 2nd lake features catfish fishing that you can keep and take home with you. Come and fish and have the time of your life at Rose's Pay Lake in berea, KY.

Rose's Pay Lake kas employed a highly successfull initial Social Media Strategy. Using Facebook they have already in their 1st month accumulated close to 2,000 FB likes. This has translated into traffic to their web site and new YouTube Account. The web site has had over 1,000 unique visitors in their 1st month as tracked by Google Analytics. And their YouTube Account has accumulated over 1,000 views to their infomercial video!
---
Sacred Souls - Rocks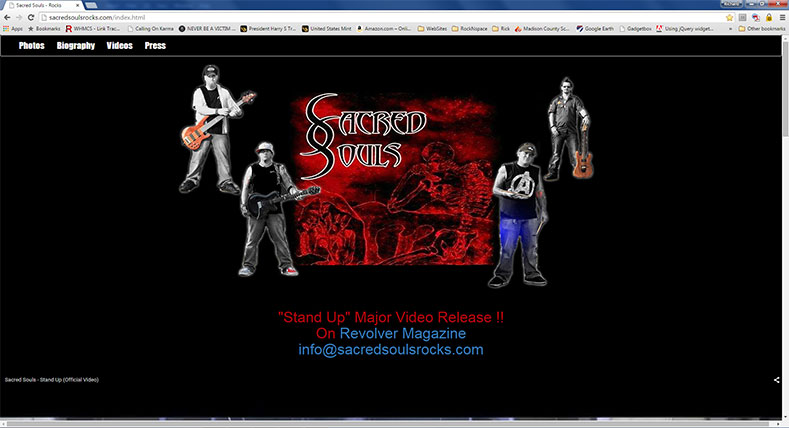 Sacred Souls a Lexington based band that is poised to go National this year wanted a design that reflected their new sophmore album to be released later in 2015. Their 1st major professional video release from their new untitled album "Stand Up" was featured in Revolver Magazine, the industry premiere Metal magazine, in july of 2015.
One of their main requirements was to use current technology to feature and sell their merchandise and music. To achieve this we used Bootstrap to allow their site to adapt to any screen size that viewed it. Using Boostrap all images and media files such as video is adapted to the screen size that views it. This is highly important since Google announced in April that if your site was not compatible with cell phones your web site will not post in searches initiated from cell phones. With one HTML file using Bootstrap you can cover all cell phones, tablets and PC's no matter what screen size the viewer is using. For smaller screen sizes such as cell phones the normal bar menu across the top changes to a drop down menu to save space. Other Bootstrap features such as a Carosel picture viewer was used to showcase HD images in different screen sizes.
To fulfill their last requirement we installed Tomato Cart, a offshoot of the Ecommerce shopping cart project. Tomato Cart is easy to use for even computer novices. The administration emulates a Windows screen that everyone is used to complete with a Start button. Plus you can sell Virtual Products such as music or normal merchandise such as T-Shirts with all the attributes like shirt sizes. It Features a Guestbook, Article creation, and even a Newsletter for your customers. Numerous other features such as cross selling, abandoned cart notification, specials and sales come standard and numerous payment gateways such as PayPal, Authorize.net and 2Checkout are also included. Also there is a robust 3rd party market through the Tomato Cart web site that sells addon modules with any feature you can imagine such as UPS or USPS shipping calculations, modern reporting etc. Best of all you can add as many products as you want and its FREE!! Contact Us to discuss ways to set up your site to take advantage of Bootstrap and Tomato Cart.
---
StarFunk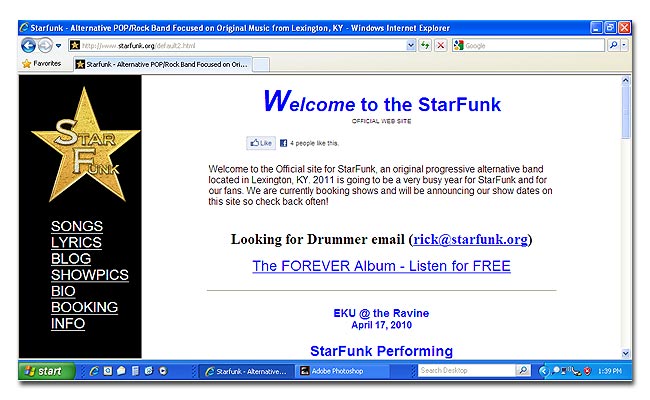 StarFunk is local band web site based in lexington, KY. It is a simple web site but we did add the music from their first album and a Perl script to track the number of plays and allow users to listen to their music via a Flash based player we installed.
---