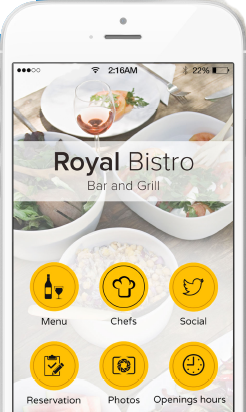 Your Business Needs a mobile presence to thrive! 68% of SMBs believe having a mobile app would help them sell more and engage better with their customers. However 78% do not currently have a mobile solution or mobile app for their business.

Kinvey surveys 20% of millennials are 'Mobile Only' and only 1 in every 8 websites is responsive, which drastically reduces the ability to connect with your potential customers! Mobile Applications written in Native Code are much faster and will become as important as having a web site was in the early 21st century! And most importantly can be sold in the Big 3 Stores - Apple Store, Google Play and the Windows Store.

RockNspace will design your Mobile Application in the Native Code of each device and submit your Mobile App to the Big 3 Stores. With a monthly maintenance fee you will have real-time access via our web based Direct App Connect Console to a myriad of Analytics, be able to change content, add content and be able to send Push Messages to all of your clients using your mobile application.

---
E-Commerce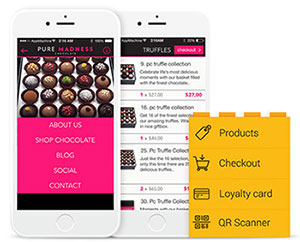 Historically, getting an app for both iOS and Android has been expensive. Even the simplest apps delivered by developers and creative agencies would start at a minimum of $10,000 USD. Complex apps generally run from $15,000 USD to $100,000 USD for just one platform.

With RockNspace we can design your Mobile Application in weeks vs. months. Starting at $600 for a simple design to $5000 for a complex application that interacts with database(s) in your web site so your customers can add their account from within the app, order products, track reward/loyalty points and pay for your products/services from within the App. Boost your sales. Sell products anywhere, anytime, on any mobile device.

---
Maps - Location Based Services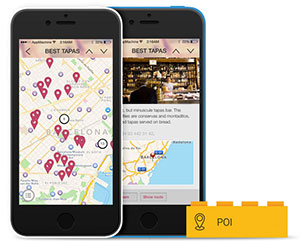 Use Your Mobile Application satellite-based navigation. Guide your clients to your shops, or any location you choose. Show your branch offices on a map or show nearby ATM's, gas stations and parking lots. You can display virtually anything you choose in our map-view.

Any Points of Interest can be added to any Map you choose to include in your Mobile Application. With each Points of Interest you can include as much or little information pertaining to the Points of Interest you deem important. Of course this can be used for your employees or staff as well. The Map(s) can be password protected and used for your sales team to show customer/vendor locations. You can use the same application for both your internal networks and your clients as well.

Send geo-targeted push notifications to inform your app users about latest offers, holiday hours or breaking news. Push Notifications get through even when your app is closed! Clients can use the app to contact you directly by mail, phone or by filling out your self-designed contact form. And the above-mentioned built-in route navigation will lead them right to your office or stores.

---
Enterprise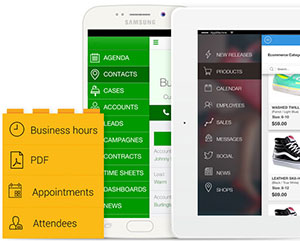 From FAQs to Background Information. Your app is your information life line. Deliver news in real-time, update it on-demand. Deliver background information, a FAQ, synchronize agendas and showcase employees.

Create in-company or external-facing mobile apps. Mobilize your workflow and your workforce. Apps are the most powerful and easy way to communicate with your staff, anytime and anywhere. Support employees and customers with what they need, when they need it, offline or online. Add your own data to your app by importing Excel files. Easily add customer lists or product catalogs. Use XML, JSON and REST API calls to connect to both public and private web services.

---
Social Media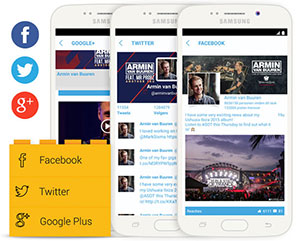 Invite The World! Offer instant access to all your photos and videos. Display Facebook albums and easily link to Flickr or Instagram. Add your own videos, or link to YouTube or Vimeo and include channels and playlists. No skills needed. It's as easy as point and shoot using our web based Direct App Connect Console to update your Mobile Application!

Include your live Facebook stream or Twitter Feed right in your Mobile App. Everytime you update your Twitter feed or add a photo to your Facebook page it is immediately reflected in your Mobile Application. Run contests promoting FB Likes or Twitter followers from within your application and in conjunction with your web site, the possibilities are endless. Contact Our App Team to discuss the endless ways your own Mobile Application promoted on the Big 3 App Stores can benefit your business and increase your bottom line!

---
Push Messages to Your App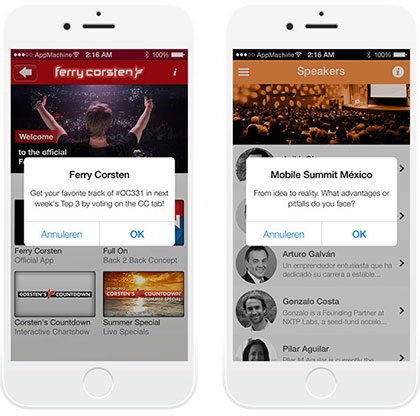 Users of your app will directly see your messages on their screen. This makes push messages a powerful instrument in your marketing mix, allowing you to inform loyal customers about promotions, special offers or breaking news. For instance, Clublife magazine sent the users of its app a push message to announce the DJ who had made it to the top of the DJ Mag top 100. Restaurants can send regular customers a message with a targeted offer: "Fancy eating at our place tomorrow? Every second guest will receive a 20% discount!" This is a great way to get a full house on a quiet evening. A push message can have a maximum of 95 characters. Would you like to say more? In that case you can ensure a screen with additional information pops up in the app when the push message is opened!

What makes push messages so powerful?
Push messages represent a form of micro marketing that allows you to directly approach users of your app via their smartphones — something they check several times a day. This means you don't have to wait until your customers read their email or decide to visit your website.

Immediately displayed on smartphone screens, even if the app has not been launched;
High attention value;
Possibility to schedule the time push messages are sent;
Micro marketing with targeted promotions;
Directs users to additional information in the app.
Composing a push message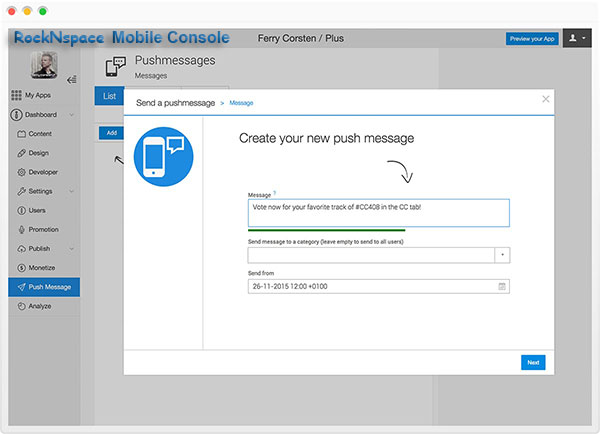 You can decide when push messages are sent. Would you like to send festival goers a message 15 minutes before it starts? Geo target a push message when a customer arrives at a predetermined location. Send you customers a coupon 5 minutes after they enter your store!

You can also schedule a Push Message for a future date/time. Just add your message to the schedule and our web based Direct App Connect Console will take care of the rest. You can also send push messages to iPhone users and Android users separately.
In case of a targeted promotion you can immediately direct users to your product page.
You can also send a push message to announce an event. When users open your message, they will be immediately directed to the calendar, route planner or any part of the app you like.
Contact RockNspace to get Your Mobile Application developed by a dedicated team and placed in the 3 Big App Stores. After reviewing your specific needs our team will give you a price quote within 24-48 hours.